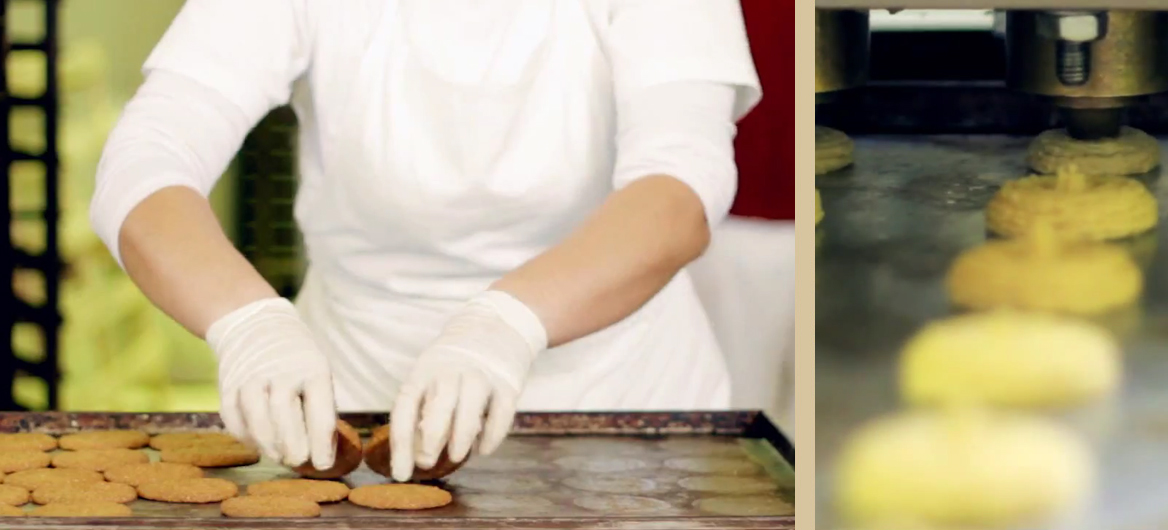 The story of how SOFIS COOKIES Company was established can be said in various ways!
The company, once called "Sogiema", was established in 1990. It deals with trading and distribution of healthy foods and nuts. In 1998 it was renamed SOFIS COOKIES as a new idea was born. The production and trade of oatmeal and nut cookies gave the company a new name and the motivation for further development. Slowly but steadily, the company's products have entered foreign and Greek super market chains and have won the consumers' heart with their unique recipe.
When in 1923 the exchange of population between Greece and Turkey took place, grandma Sofia came to Greece and settled in a small village of Khalkidhiki. Along with her irresistible recipe, she brought her values, her tradition and new lease on life. So inspiring were her enthusiasm and perseverance that she urged the second generation to create the first oatmeal cookies and the third one to develop a production according to international standards. Being a highly equipped unit and meeting all the requirements for healthy compliance and quality controls, a large product line was created.
Enjoy the irresistible taste of the filled cookies and the traditional ones as well as the bread sticks. Moreover, you should not forget to have a go at our healthy product line such as the Greek grape-must cookies, raisin cookies and the flaxseed!
Cookies that go down in history!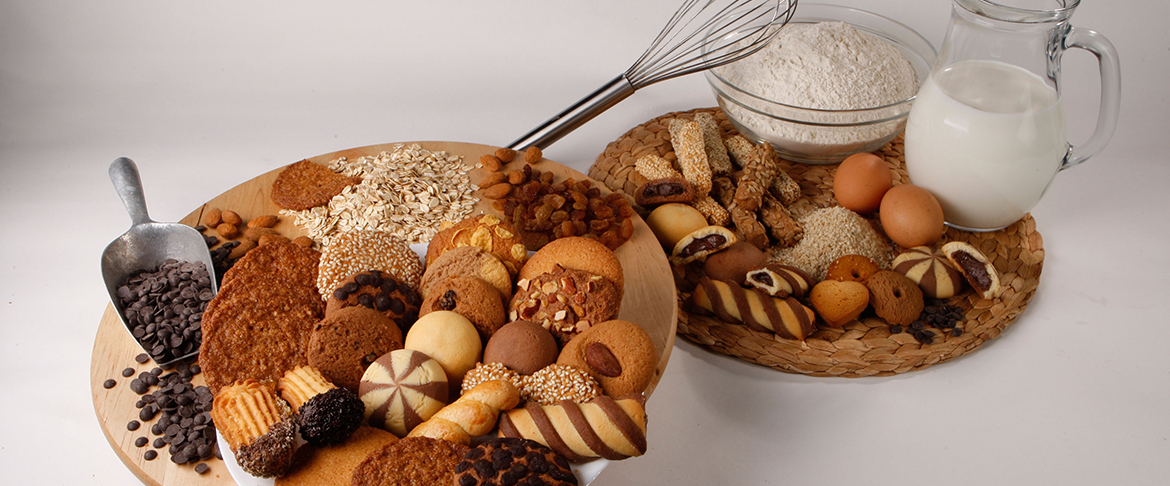 Vision- business strategy of the Sofis Cookies Company
Our company's vision is to satisfy the everyday needs of even the most demanding customers with high quality products. Each and every product comes under scrutiny during production procedure with the ultimate goal to secure the high quality of the final products.
First and foremost, our mission and main concern as a company is to ensure the safety and hygiene of our products by implementing and monitoring every single step during the process. More specifically, we ensure the quality of raw materials, the production and control of all the
products as well as their delivery to our customers and, if necessary, our further assistance for anything they may need. Last but not least, Sofis Cookies Company is totally conformed to regulations related to health and safety requirements.
Furthermore, the policy and mission of our company is to produce and supply cookies and food commodities which satisfy customers' needs regarding high quality and taste, building this way a strong relationship with our consumers; a relationship of which we are proud. We keep investing in time, resources and expertise and mainly, we dare to innovate with pioneering suggestions that meet our customers' expectations.
The administration of Sofis Cookies Company assures:
Our customers' satisfaction as well as their health.
The production, storage and transfer of the products under controlled conditions in consonance with quality and health assurance regulations and policies and also the mutually agreed customers' requirements.
The notification of policies related to food safety and quality and the constant training of our staff.
The notification of food safety policy to our suppliers and to all the people involved who could possibly affect the safety of food products.
The constant improvement of the company through the implementation of goals and objectives and the continuous business performance reviews.
Health and safety is the main responsibility of the administration and at the same time is the outcome of commitment and collaboration between the executives and employees.
What is the FSSC 22000
The FSSC 22000 – Food Safety System Certification 22000 is a certification of Food Safety Management System governed by the non profit Dutch Foundation FSSC 22000.
It is based on the international standard ISO22000 'Food Safety Management Systems-Requirements for any organization in the food chain' and on the ISO/ TS 22002-1:2009 'Prerequisite programs on food safety for food manufacturing'.
GSSC 22000 is applicable to all businesses involved in any aspect of the food chain operating in production, manufacturing and food processing (apart from primary production, harvest and provender production).
The certification Scheme for Food Safety Management Systems was fully recognized by the GFSI (Global Food Safety Initiative) on 2/23/2010 and it is equivalent to BRC (British Retail Consortium) and IFS (International Featured Standards).
Companies that seek certification against FSSC 22000 must fulfill certain criteria such as requirements for construction and design of buildings, design of premises, air, water and energy supply, waste management, equipment, cleaning and sanitizing, personnel hygiene etc., as well as any further requirements of the Scheme FSSC 22000.
Benefits of implementing a FSSC 22000 Standard
It provides a higher level of food safety
It has worldwide recognition and credibility, thereby it gives a valuable competitive advantage
The business risks are identified and thereby managed accordingly
There is investment attraction
It improves the corporate image of the organization
The company reduces its expenses and saves resources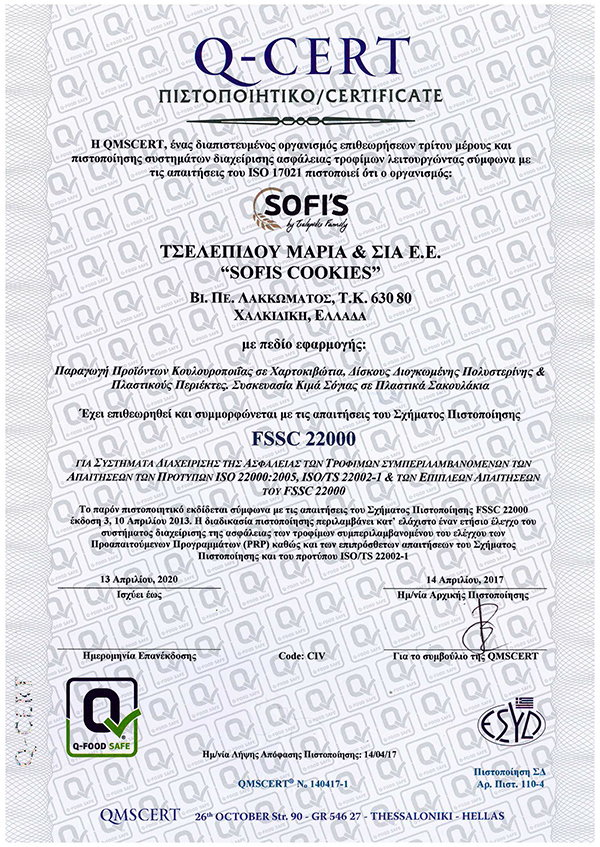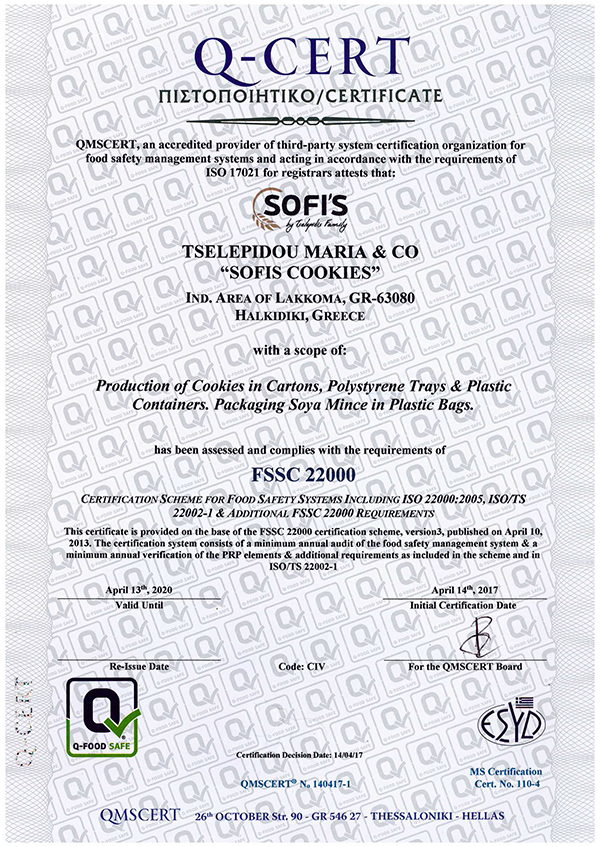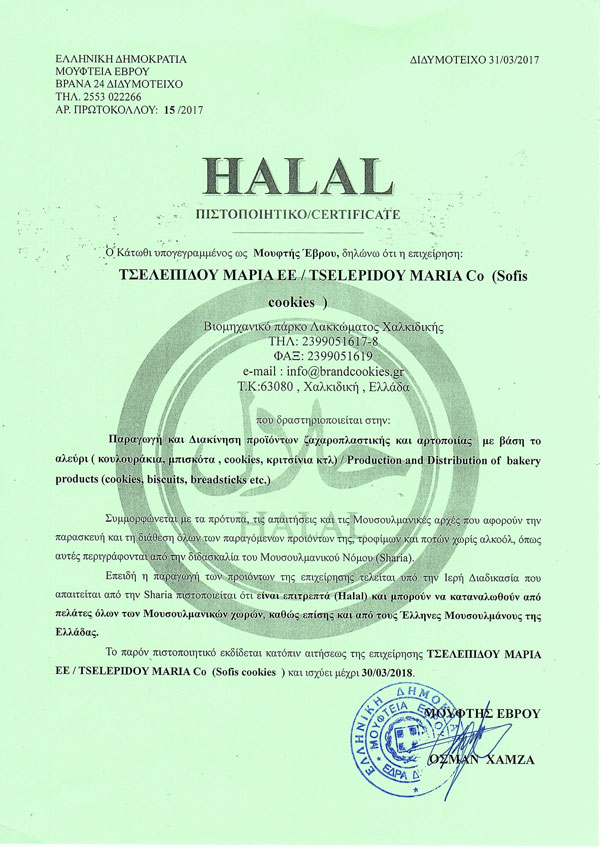 HALAL
Halal:
The Arabic word 'halal' refers to what is permissible or lawful in the traditional Islamic law. It is totally contracted to 'haram' which refers to anything forbidden such as pork, toxic substances, and the meat coming from animals not properly slaughtered.
Halal foods are considered to be all those which meet the requirements of the Islamic dietary habits, are clean and do not contain forbidden ingredients or substances.
Benefits from Halal Food Certification
Halal Food Certification gives a valuable competitive advantage for entering or expanding business in local and global Halal market place. This certification is necessary in order to export goods in certain countries such as Malaysia, Indonesia and Singapore. It is also necessary for companies which supply raw or intermediate materials to other companies whose final product has been certified as halal.
Consequently, the Halal logo is a must-have marketing tool and a useful asset for every company which wishes not only to maintain its customers, but also to attract an increasing number of consumers who place value on Halal food consumption. The world's overall demand for Halal products is being constantly increased and the Halal logo provides numerous benefits to companies from various sectors. Some of these are the following:
It makes Muslim countries more accessible and by that exportation easier
There is no loss of Muslim consumers
The main principles are safety and health, principles also important to everyone
Competitive advantage and bigger market's share
The company and its brand name is registered in the global Halal list
It constitutes a responsibility and a trustworthy commitment on behalf of the organization to all the preconditions required by the Islamic law and regulations
It ensures consumers that the product is complied with the requirements of the Islamic practices
Halal Certification
Every Halal certification system is based upon the following principles:
Business vision and responsibility
Hygiene system
Tracking the product from the first stage of its production until it reaches the consumer
Evaluating dangers or risks
Labeling
Constant inspection and improvement